Spokane Teen Videofest 2010 A Success!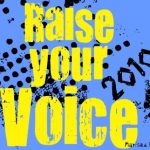 What a great turnout TVF had for the Premiere Showing and Awards Night! Many participants, parents, family members and community members, even Mayor Mary Vernor gathered at the Lincoln Center on February 10, 2011 to honor the participants and find out who was going to take home $1000. Fun and enjoyment of the evening was had by all. Some comments received from viewers and attendees include:
"Teen Videofest has had such a wonderful impact on my life!"
            Kendra Sherrill, Spokane Teen Vidoefest 2010 1st place winner
"I entered TVF because it looked like a fun challenge and I was determined to win that cash prize."
                Rachelle Price, Spokane Teen Videofest 2010 2nd place winner
Watch for other THEDAILYRISK.com projects and activities!
CHECK OUT THIS YEAR'S VIDEOS
CHECK OUT LAST YEAR'S VIDEOS