CHOOSING TO WAIT
FAST FACTS
Most teens who have had sex wish they had waited … 67%of teens surveyed who have had sexual intercourse wish they had waited longer;  (The National Campaign to Prevent Teen Pregnancy, www.teenpregnancy.org)
You're not the only one interested in abstinence! As of 2007, more than 50% of teens decided to delay first sexual experience (CDC, YRBS, 2008).
WHAT IS ABSTINENCE?
Abstinence means not doing a certain behavior, such as certain foods, beverages, or sex. The term can mean different things to different people. At THEDAILYRISK.com, abstinence refers to not having vaginal, anal or oral sex.
WHY ARE PEOPLE ABSTINENT?
People are abstinent for many different reasons. For some people, abstinence is an important way to follow religious or moral beliefs. For others, it is a personal choice. Abstinence is considered part of good emotional and physical sexual health. For everyone, abstinence is the best way to prevent all Sexually Transmitted Diseases (STDs) and unintended pregnancy.
HOW IT WORKS:
Abstinence is the only 100% effective way to protect yourself against STDs and unintended pregnancy. Abstinence doesn't mean you can't be affectionate with a partner.
When both partners are comfortable with intimate contact, kissing, cuddling, and learning about one another's bodies can be important ways to grow as a couple. Being abstinent lets you connect with your partner, while protecting you from the consequences that can come with vaginal, anal or oral sex.
For most people, abstinence isn't a life-long decision, but a temporary and healthy plan during their teenage and young adult years.
WHAT DO I NEED TO KNOW ABOUT IT?
Abstinence is an important decision during the teen years. Hormones and curiosity can make sticking with the choice more difficult than we think. Even when our mind tells us to do one thing, our body may send a different message. There are a few things you can do to prepare yourself to stick to your decision to be abstinent, including:
Hang out with people who understand your decision and have the same feelings about delaying sex;
If you're concerned things will get hot and heavy, go out with your partner with a group of friends or on a group date;
Decide how you will handle it if your partner pressures you to have sex (plan what to say or who to call and pick you up, etc.)
Have a plan in case you consider sex- i.e. take a condom with you.
Spending time with people who can't understand or don't respect your decision can make it harder to stay committed to your choice. Romantic partners who don't understand or respect your decision might pressure you to change your mind. You can help yourself even more by preparing yourself with responses to some of those common lines. For example: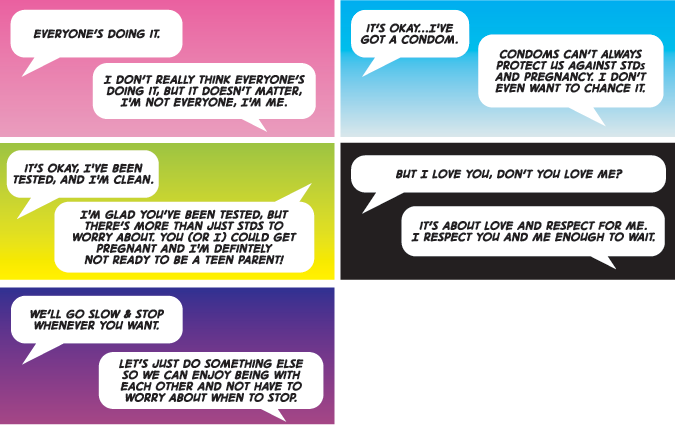 ADVANTAGES & DISADVANTAGES OF ABSTINENCE
ADVANTAGES
It's the only 100% fool proof method against STDs and unintended pregnancy;
You can be abstinent at any time and any age, even if you have previously been sexually active;
It can allow other parts of a relationship to grow.
DISADVANTAGES
Some people don't understand what abstinence really means;
Some people won't understand your decision to be abstinent;
If you rely on it without having a back-up plan, you're at risk for engaging in risky (i.e. unprotected) sex in the heat of the moment.